Microsoft Exchange Server
Auditing Software
Netwrix Auditor for Exchange delivers complete visibility into your Microsoft Exchange infrastructure by monitoring all changes made to Exchange server configuration, Exchange databases, mailboxes, mailbox delegation, and permissions, including changes to public folder permissions. Additionally, it reports on events in which someone gains access to another user's mailbox.
Helps you proactively prevent data breaches by alerting you about suspicious activity, such as changes to permissions to a shared mailbox or a user gaining access to
the CEO's mailbox.
Full details about every change
Delivers detailed information about all changes across the Exchange environment. You can easily identify when each change occurred, who made it, and what exactly was changed, including the current
and past values.
Non-owner mailbox access monitoring
Reports to IT staff and mailbox owners about non-owner access to specified mailboxes. You can see who accessed what mailbox, when and from which workstation the access occurred, and what items the user viewed,
edited or deleted.
Easy-to-read reports
and dashboards
Supplies audit data to anyone who needs it in a human-readable format. Predefined reports and dashboards are easy to customize using built-in filtering and sorting. Export and subscription options simplify putting information
in the right hands.
Smooth compliance reporting
Makes it easy to prove your compliance with hard data by providing out-of-the-box reports mapped to specific regulatory compliance standards, including PCI DSS, HIPAA, SOX, GLBA, FISMA/NIST, CJIS,
GDPR and more.
Non-intrusive architecture
Collects audit data without using agents, so it does not disrupt operating
system functions.
Auditing Exchange Server is essential for maintaining the security of data in email, proving compliance with internal policies or external regulations, and ensuring ongoing email availability. Netwrix Auditor for Exchange overcomes the limitations of native Exchange logs by simplifying auditing and reporting on changes made to your Exchange infrastructure and eliminating the need for time-consuming manual scripting
and data consolidation.
"Netwrix Auditor is a great product that provides, in one place and in a readable format, all the auditing reports any Exchange administrator can want — something currently
lacking out there."
Nuno Mota,
Microsoft Exchange MVP
Simplify reporting and speed up troubleshooting of
disruptive changes
Simplify reporting and speed up troubleshooting of
disruptive changes
Stop relying on cumbersome native Exchange logging
and accelerate generation of reports about changes on your Exchange servers with Netwrix Auditor for Exchange. Whether your management asks for a security-related report or you need to find the root cause of an email outage and troubleshoot it as soon as possible, Netwrix Auditor for Exchange can help. It provides
predefined audit reports and dashboards
on Exchange Server activity, and you can easily filter, sort and export
the audit data.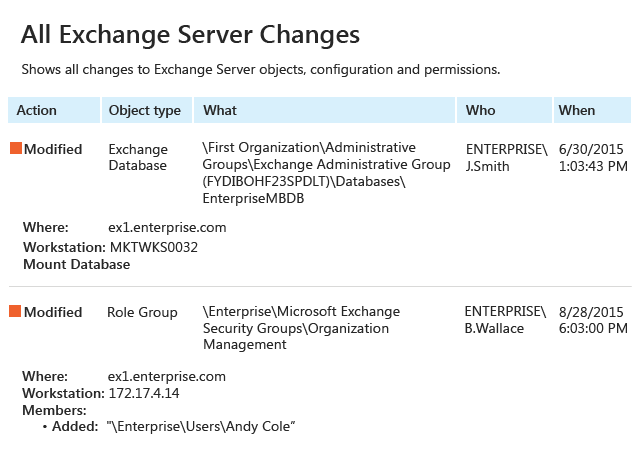 Mitigate the risk of a data leak by quickly detecting and investigating
suspicious activity
Imagine someone got access to your CEO's mailbox. You'd need to quickly understand how it happened. Did someone accidentally modify the CEO's mailbox permissions? Or was someone maliciously added to the Organization Management role group, which gave them full control over your Exchange Server? Whenever you
identify an unsanctioned activity
that might result in a security breach,
Interactive Search
feature will help you
investigate what steps led to the incident
so you can take precautions to avoid such problems
in the future.
Enforce data security and ensure uninterrupted email service with
continuous Exchange auditing
Gain control over everything happening in your Microsoft Exchange infrastructure. With
actionable audit data
at hand, you can quickly answer questions such as who was added to or removed from a role group or who deleted a mailbox.
Keep the Exchange Server audit trail for more than 10 years
in a scalable, two-tiered (file-based + SQL database) storage to investigate data leak incidents and easily generate reports required to
pass compliance audits.
"After implementing the Netwrix Exchange change reporting solution, we were able to see who was opening mailboxes other than their own, and this allowed us to tighten
our security policy."
Tim Stainthorpe, Technical Services Manager,
Eclipse Group Solutions Ltd.
Free guide:
Keeping Tabs on the Top 5 Critical Changes on Exchange Server with Netwrix Auditor
Datasheet:
Complete Visibility into Exchange Server with Netwrix Auditor
Find out how organizations of all sizes use Netwrix Auditor for Exchange to enhance data security and
streamline compliance
Over 160,000 IT departments worldwide rely on Netwrix to secure IT infrastructure, prove compliance and increase
operational efficiency