Netwrix Auditor for
SharePoint and Teams
Keep data in your SharePoint and Microsoft Teams secure without sacrificing productivity
Teams and SharePoint Auditing Tool that Helps You Secure Sensitive Data
Mitigate the risk of data leaks, keep your business operations highly available and streamline IT compliance with Netwrix Auditor for SharePoint and Teams. Get detailed information about overexposed sensitive data, document reads, and track changes to your farm configuration, groups, sites, permissions and content — across all your Microsoft Teams, SharePoint Online and SharePoint Server environments.
Quickly determine the root cause of an operational issue or investigate a security incident. For example, you can quickly see who modified a team's settings or deleted a confidential document library from SharePoint.
Promptly detect even subtle signs of data security threats in progress, such as activity outside of business hours. Easily pinpoint which users pose the most risk with an aggregated view of anomalous activity.
Streamlined compliance reporting
Prove to auditors that your internal controls are aligned with security best practices with out-of-the-box reports mapped to PCI DSS, HIPAA, SOX, GDPR and many other regulatory standards.
Detailed reports and overview dashboards
Easily monitor your environment using clear dashboards and reports with drill-down, filtering, sorting and exporting capabilities. You can even have them emailed to you on the schedule you pick.
Automated incident response
Minimize the damage from incidents by responding faster. Automate response by simply embedding your own scripts in predefined or custom alerts in Netwrix Auditor.
Non-intrusive architecture
Don't worry about Netwrix Auditor degrading system performance or causing downtime — it collects audit data without the use of any intrusive services.
Audit SharePoint Online and on-prem SharePoint to strengthen security and ensure business continuity
Neither native SharePoint auditing nor the Office 365 Admin Center provide a complete picture of what's going on across your hybrid environment. Moreover, you'll have to spend long hours on crawling through different types of audit logs to dig out the root cause of a security incident, investigate the cause of downtime, or prepare audit log reports for auditors. Most third-party SharePoint auditing tools can't adequately address all of these needs, either. Netwrix Auditor can.
Lock down sensitive data in SharePoint and Teams
SharePoint and Teams make it easy for business users to collaborate and share data — but how can you ensure that they are not putting sensitive data at risk? Reduce the risk of data breaches and compliance violations with easy-to-pull insights on SharePoint permissions and data shared via Teams that help you ensure everyone has the right level of access rights and critical data is not overexposed.
Respond to incidents faster with noise-free alerts
Risky changes, such as turning on external sharing for site collections or adding users to a confidential team in Microsoft Teams, often go unnoticed until the organization discovers a breach, fails a compliance audit or experiences downtime. Be the first to know about these threats — and get the details you need to fix them before they cause trouble — with customizable alerts.
Slash incident investigation and response time
Instead of manually checking cryptic audit logs or switching through endless Microsoft 365 audit log reports, use the Teams and SharePoint auditing tool from Netwrix to quickly determine who has done what with your teams, sites, lists, libraries or permissions. Easily save your search criteria as a custom report to stay informed about similar activity in the future.
Streamline compliance audits
Use Netwrix Auditor in conjunction with Netwrix Data Classification to easily prove your compliance with the requirements of PCI DSS, HIPAA, GDPR and other mandates. You can know exactly what types of regulated data you store and quickly spot suspicious activity that could threaten that data, such as attempts to escalate privileges or access sensitive content. Plus, you can store all your audit data in one place for as long as you need, minimizing your record management headaches and costs.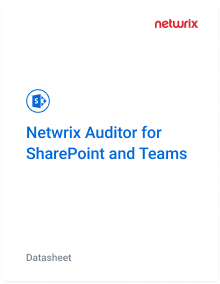 Learn more about how Netwrix Auditor for SharePoint helps organizations just like yours simplify SharePoint auditing and streamline regulatory compliance.
Download Datasheet (.pdf)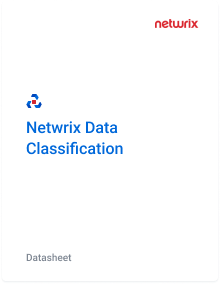 Learn how Netwrix Data Classification empowers you to locate critical data and focus your auditing efforts in accordance with its value or sensitivity.
Download Free Guide (.pdf)
Find out more about why organizations, from small businesses to enterprises, choose Netwrix Auditor
"Netwrix Auditor is a great product that helps us secure large amounts of sensitive data, such as students' health records and their parents' financial information. We can seamlessly track user activity, ensure conformance to security policies and investigate incidents."

Hans Gierens, IT Manager,
Catholic College Sale
Tracking SharePoint Configuration, Permissions and Content Changes
with Netwrix Auditor
Microsoft SharePoint helps organizations improve their effectiveness by streamlining both data access and data management. Staying on top of changes to SharePoint site collections, configuration, security settings, document libraries and list items is crucial to the security of sensitive content and the continuity of business operations. Netwrix Auditor for SharePoint tracks changes and read access events to detect suspicious activity, and enables you to easily view detailed information about any action, including the creation, deletion or modification of critical SharePoint content. This pervasive visibility into SharePoint activity helps you minimize the risk of data compromise and operational setbacks.
Complete SharePoint Monitoring with Netwrix Auditor
for SharePoint
Netwrix Auditor for SharePoint complements Microsoft SharePoint monitoring by detecting, preserving and reporting on all changes to the configuration of SharePoint farms, permissions, user content and other resources, as well as all read access events. It provides extensive details, so you can easily determine who viewed which data, who changed what, when and where each event happened, and the before and after values for each change. The solution provides easy-to-read predefined reports and dashboards, along with report subscriptions, interactive search through audit data and a cost-effective two-tiered (SQL Server database + file-based) storage.
Monitoring Changes to SharePoint Permissions to Minimize the
Risk of a Breach
Proper SharePoint governance requires controlling user access to each site and its contents. Whenever any change is made to permissions — whether permissions to sites, lists or data were modified, or a new member was added to a SharePoint group — you need to be alerted, because improper changes can threaten your data security. For efficient permissions management, you need visibility into permissions and how they change. Netwrix Auditor for SharePoint delivers actionable intelligence, including SharePoint permissions reports that you can view at any time to determine which users gained access to your sites and whether their permissions are appropriate.
Exceeding the Native SharePoint Audit Log with
Netwrix Auditor
Does your organization rely on SharePoint to store and manage critical information? If so, to ensure data security and system availability, you need to keep a close eye on all access events as well as all changes to configuration, list items, library documents, permissions and more. To view audit log data, you can configure the native SharePoint audit log in Site Collection Administration. However, SharePoint audit log reports come in a hard-to-read Excel format and don't enable you easily identify and scrutinize suspicious activity. Netwrix Auditor for SharePoint, on the other hand, delivers actionable intelligence enriched with valuable insights, so you can quickly spot abnormal actions and drill down to investigate them, thereby minimizing the risk of attacks or insider misuse going undetected.
Passing HIPAA Audits with Less Effort and Expense
with Netwrix Auditor
More and more healthcare organizations are using SharePoint to streamline their business processes and organize their data. However, they must ensure that their SharePoint environments meet HIPAA and HITECH Act compliance requirements for storing and processing patient electronic protected health information (ePHI). Netwrix Auditor for SharePoint enables you to make and keep your SharePoint HIPAA compliant. The solution addresses HITECH and HIPAA security requirements by helping you validate that your critical assets are secure and mitigating the risk of a breach with notifications on insider and outside threats — while also slashing audit preparation time and costs.
Efficient SharePoint Reporting to Shield Your
Sensitive Assets
Do you have peace of mind when it comes to security of your SharePoint data? Misuse or exfiltration of sensitive data, whether it's business-related data or personal information belonging to your employees or your customers, can result in a costly breach and harm your organization's reputation. Therefore, ensuring SharePoint data security and compliance is essential. Netwrix Auditor for SharePoint delivers easy-to-read, detailed SharePoint reports so you can stay on top of what's going on across your SharePoint sites and spot unauthorized attempts to access your sensitive assets before it's too late.
Maintaining SharePoint Compliance
with Netwrix Auditor
While Microsoft SharePoint fuels collaboration and content sharing across your organization, you should always keep in mind that some of this content might be highly sensitive. To minimize the risk of a breach and prove your compliance with regulations such as PCI DSS, HIPAA and GLBA, you need to have efficient records management, data loss prevention (DLP) and data access governance strategies in place. Netwrix Auditor for SharePoint helps you streamline SharePoint compliance by delivering reliable compliance features, such as predefined compliance reports, report subscriptions and full-featured interactive search. Now you can slash audit preparation time by 50% and address any auditor's question within minutes while shielding your critical information from outsider and insider threats.
Ensure the Security of Your SharePoint Environment by Staying on Top of
Suspicious Activity
Securing the sensitive data stored in Microsoft SharePoint Server is an important task for IT teams. To strengthen the security of your SharePoint site collections, you need to be able to quickly spot, investigate and remediate any suspicious change to your farms, web applications, sites, lists, list items and documents — especially SharePoint permissions changes. While native audit log reports can provide you with some information about changes to your site collections, they do not deliver any capabilities to help you spot malicious activity in its early stages or get to the root cause of an incident. Netwrix Auditor, on the other hand, enables you to stay on top of suspicious activity easily. Prebuilt and custom SharePoint security reports and other features enable you to quickly spot problems and determine the root cause, so you can respond promptly and prevent similar incidents from happening in the future.
Secure business-critical data with auditing of OneDrive
OneDrive for Business has been widely adopted by organizations that need a way for employees to store business-related files, access them at any time from anywhere, and share them with other employees. As a result, it often contains business-critical data that needs to be secured. With OneDrive for Business auditing and reporting, you can tighten control over user and admin activities and ensure security and data integrity. OneDrive for Business is a part of the Office 365 suite, which also includes SharePoint Online, Azure Active Directory and other hosted services. Its activity record is stored in the native audit log, which is available in the Office 365 management console. However, native auditing and reporting has important limitations that can hinder your security initiatives. Netwrix Auditor for SharePoint is a comprehensive solution that helps you tighten control over changes and access to data stored in OneDrive for Business.                         
Streamlined SharePoint Online auditing to spot and block emerging data security risks with Office 365
Are you worried you might miss critical changes that could put your SharePoint Online data at risk? To shield your sensitive assets better, you need to audit SharePoint Online activity. With ready-to-use SharePoint Online reports at your fingertips, you can be sure that you will be the first one to know about changes to your sites, configuration and permissions, as well as any unauthorized read access, so you can quickly block threats, ensure 24/7 system availability and pass compliance checks.                         
Exceeding the native SharePoint Online audit log with Netwrix Auditor
When your organization relies on SharePoint Online to store its data, any admin activities performed in error or without proper authorization can wreak havoc, resulting in system unavailability, data breaches, and major security and compliance failures. To minimize this risk, you need to properly configure your audit settings to stay on top of suspicious changes and access events that would otherwise go unnoticed. To view audit log reports, you can choose the hard way and use Site Collection Administration capabilities. Or you choose the simple path and allow Netwrix Auditor for SharePoint to take care of it. With Netwrix Auditor, you get actionable security intelligence enriched with insights, including all details about the SharePoint Online audit log, so you can quickly identify abnormal actions and respond before they cause real damage.